Doug's Peach Orchard
Dining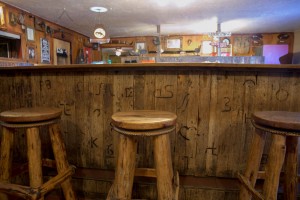 Known for their tartar sauce and calf fries, this place sits almost on the Red River, south of Terral, OK. Its menu is short, service is quick and food is good.
Local ranch brands are burned into the counter, vintage western paintings, handmade spurs and bits adorn the walls of this small diner just south of Terral, Oklahoma. Catfish, chicken strips, calf fries and steak finger sandwiches are a few of the short menu items. Dessert is pies. Beer is ice cold! Tartar sauce like nobody's business. Doug's T-shirts are a popular item with travelers. Opened since 1948, 11 a.m. to 9 p.m. Tuesday through Sunday.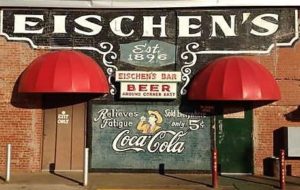 Welcome to Eischen's Antique Bar…
the oldest bar in the state of Oklahoma! Eischen's Saloon was established in 1896 by Peter Eischen and was open until Statehood and Prohibition. Eischen's Bar opened shortly after the end of Prohibition by Nick & Jack Eischen, son and grandson of Peter Eischen.
The massive back bar, a vital part of the history of Eischen's was hand carved in Spain in the early 1800s. During the Gold Rush it was shipped to California. It was lost in time until it was brought to Okarche in 1950 for the enjoyment of all who stopped by Eischen's. On January 21, 1993, fire destroyed Eischen's and one of the things remaining is a small part of the antique back bar.
 
Hours Mon – Sat 10am – 10pm
Closed Sunday, Major Holidays
No credit cards – cash or personal check only / ATM onsite
No tea or coffee
Reservations for large groups Mon – Thurs only.
 
109 S. 2nd Street, Okarche, OK  73762
405-263-9939