Oklahoma History Center
Tour Bus Friendly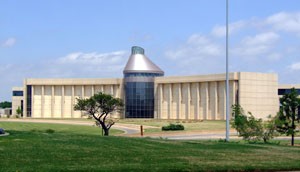 An 18-acre, 215,000 sq-ft learning center exploring Oklahoma's unique history.
Where you can pick up the perfect old or new gift for that someone special.  Our building was built in 1901 by C.B. Campbell (one of Minco's founders) as a dry goods store.  It was sold to John Markle in 1920 and became Markle Grocery until 1979.  It was occupied by different owners until 2001 when it was sold to Jerry and Deana Walje.  They opened the bottom part of the building into an antiques and gift store plus they had a place for Tanning and Toning. In 2011 they added a soda fountain with fresh hot chocolate chip cookies.  In 2012 they finished the remodeling of the upstairs and open the area for more antiques. They removed the toning beds at this time to make room for more vendors and now a flower shop named Petals and Pinecones.  There is also a massage studio Nancy's BodyWorks and a computer repair PC's Bobs.   
Deana Walje
Owner
THE VINTAGE BARN
SHABBY CHIC BOUTIQUE
12811 S Hwy 81, 2 Miles South of Waukomis, Ok 73773
Directly off of the Historic Chisolm Trail
Sherri (580) 231-0838
Julie (949) 943-4305
www.facebook.com/vintagebarn58

The Vintage Barn is a one of a kind shabby chic boutique that offers custom, handcrafted furniture and home décor.  Local grass roots, small business owner and designer, Sherri Curtis has an amazing talent for transforming, designing and decorating!
Sherri grew up in a very modest home and worked with her grandmother as a little girl, learning very quickly how to turn other people's furniture into beautiful treasures.  Bringing life to vintage and abandoned items, turning them into beautiful pieces of work and bringing smiles to people's faces is her passion!  The Vintage Barn is a lifelong dream of hers that she is thrilled to share with people from all over!
About three years ago, Sherri and her husband turned an old salvage yard off of the historic Chisolm Trail on highway 81 into a charming country home for their family.  They restored the barn on the property into a quaint shabby chic boutique filled with Sherri's work.  The Vintage Barn offers a unique local shopping experience with a comforting "at home feel" where one room of beautiful, one of a kind, reasonably priced pieces and décor seamlessly flows into the next.
Stumbling across this diamond in the ruff after moving from California to Enid, Oklahoma, Julie Matula realized the beauty of this shop and began to spread the word about this special place. Because of her deep belief in what Sherri has to offer, she began promoting The Vintage Barn through social media and was encouraged to introduce her own inspired designs to the store. 
The Vintage Barn is owned and operated by two small town ladies, passionate about doing what they love to do, providing quality, one of a kind items that make other people happy!
Normal operating hours are Saturdays 10:00-4:00 and Sundays 1:00-4:00
Please call Julie (949) 943-4305 or Sherri (580) 231-0838 to make arrangements to visit during weekdays.