Snake River Gang / Orvel Robinson
Performers/Speakers/Poets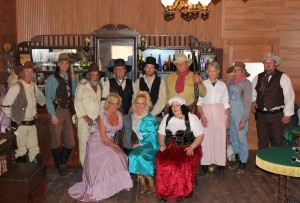 A whole heap (herd?) of cowboy and western performers including singers, tricksters, gun fighters, saloon girls and more.  They can come to your event, or your group can come to their Western Town east of Marlow, OK.  Contact Orvel Robinson for details.
Travel: State of Oklahoma
Fees: Dependent on number of performers, travel and duration of performance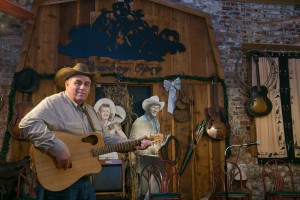 Guitars, mandolins, fiddles and a few more instruments for a hoe-down can be found here.
Store proprietor Allen Wooten has been collecting instruments and country music memorabilia for over 10 years. Much of his instrument collection is for sale. Every Thursday evening, he hosts an acoustic session in his Cowboy Opry venue, along with something to eat if you're hungry. It's kind of like the Bluebird Café of Southern Oklahoma. There's plenty of stories, music and things to see and share at this little store which sits at the intersection of US Highway 81 and Oak Main in Comanche. He also offers music lessons for those who want to learn a lil' pickin'.
We bring our longhorn riding steer(s) to your event or parade. We have been training steers for 16 years and several thousand have climbed up in the saddle to have their photos taken on a real live longhorn.
We are currently booking for the CT 150 celebration.
Contact us at 405-964-2889 or on Facebook at Straka Longhorns.