Cowboy Opry and Music Store
Specialty Shopping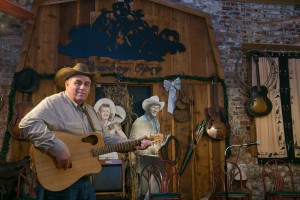 Guitars, mandolins, fiddles and a few more instruments for a hoe-down can be found here.
Store proprietor Allen Wooten has been collecting instruments and country music memorabilia for over 10 years. Much of his instrument collection is for sale. Every Thursday evening, he hosts an acoustic session in his Cowboy Opry venue, along with something to eat if you're hungry. It's kind of like the Bluebird Café of Southern Oklahoma. There's plenty of stories, music and things to see and share at this little store which sits at the intersection of US Highway 81 and Oak Main in Comanche. He also offers music lessons for those who want to learn a lil' pickin'.
One of Ryan's oldest operating establishments. There's even a Coca-Cola display in the back of the pharmacy/gift shop.
Ryan Drugstore was established in 1924 and continues to serve residents of this small farming community, population 816 in the 2010 census. In the back of the drugstore, there is an old fashioned Coca-Cola display that is an attraction. Outside, a window display features old pharmacy bottles from the days of the Indian Territory. To get there, go south on US 81 from Waurika, 11 miles. At the intersection of the town, you will see the welcome sign, proclaiming Gateway to the Chisholm Trail. Turn right, or go west and the drugstore is in the middle of the block.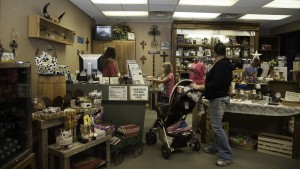 Gift shop featuring western and Oklahoma souvenirs, books (regional and historical), children's items, postcards, T-shirts and more.
The gift shop at the Chisholm Trail Heritage Center has a variety of souvenir items for all ages. Postcards, T-shirts, mugs, novelty items like keychains and hat pins. A growing selection of books include regional, cowboy poetry, Chisholm Trail history, cookbooks, Oklahoma history and children's books. Our candy selection features Bedre' chocolates, and western-style snacks, like Cow Tales, Beef Jerky, wax mustache lips, and scorpion suckers, to name a few.  Other unique items are DVDs about life on the Chisholm Trail. New items are added constantly to reflect the growing interest in the history of the old west, Native American cultures and Oklahoma.