Chisholm Trail Heritage Center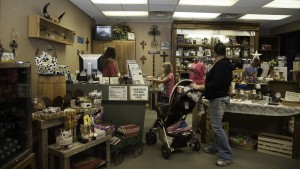 Gift shop featuring western and Oklahoma souvenirs, books (regional and historical), children's items, postcards, T-shirts and more.
The gift shop at the Chisholm Trail Heritage Center has a variety of souvenir items for all ages. Postcards, T-shirts, mugs, novelty items like keychains and hat pins. A growing selection of books include regional, cowboy poetry, Chisholm Trail history, cookbooks, Oklahoma history and children's books. Our candy selection features Bedre' chocolates, and western-style snacks, like Cow Tales, Beef Jerky, wax mustache lips, and scorpion suckers, to name a few.  Other unique items are DVDs about life on the Chisholm Trail. New items are added constantly to reflect the growing interest in the history of the old west, Native American cultures and Oklahoma.