Doug's Peach Orchard
Red River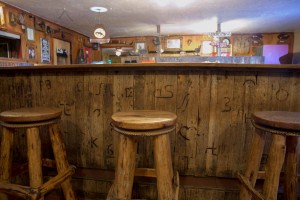 Known for their tartar sauce and calf fries, this place sits almost on the Red River, south of Terral, OK. Its menu is short, service is quick and food is good.
Local ranch brands are burned into the counter, vintage western paintings, handmade spurs and bits adorn the walls of this small diner just south of Terral, Oklahoma. Catfish, chicken strips, calf fries and steak finger sandwiches are a few of the short menu items. Dessert is pies. Beer is ice cold! Tartar sauce like nobody's business. Doug's T-shirts are a popular item with travelers. Opened since 1948, 11 a.m. to 9 p.m. Tuesday through Sunday.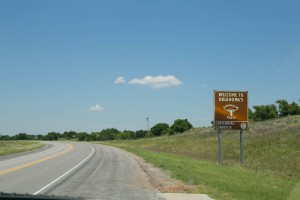 Visitors entering Oklahoma from Texas don't need a GPS to tell them where they are. The sign says it all.
Welcome to Oklahoma's Chisholm Trail Centennial Corridor sign was established in 2007 for the state Centennial celebration. The highlight was a month long cattle drive, from the Red River north into Kansas.
One of Ryan's oldest operating establishments. There's even a Coca-Cola display in the back of the pharmacy/gift shop.
Ryan Drugstore was established in 1924 and continues to serve residents of this small farming community, population 816 in the 2010 census. In the back of the drugstore, there is an old fashioned Coca-Cola display that is an attraction. Outside, a window display features old pharmacy bottles from the days of the Indian Territory. To get there, go south on US 81 from Waurika, 11 miles. At the intersection of the town, you will see the welcome sign, proclaiming Gateway to the Chisholm Trail. Turn right, or go west and the drugstore is in the middle of the block.