Doug's Peach Orchard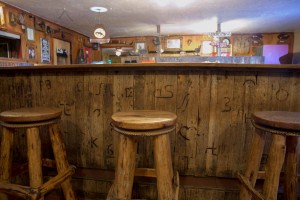 Known for their tartar sauce and calf fries, this place sits almost on the Red River, south of Terral, OK. Its menu is short, service is quick and food is good.
Local ranch brands are burned into the counter, vintage western paintings, handmade spurs and bits adorn the walls of this small diner just south of Terral, Oklahoma. Catfish, chicken strips, calf fries and steak finger sandwiches are a few of the short menu items. Dessert is pies. Beer is ice cold! Tartar sauce like nobody's business. Doug's T-shirts are a popular item with travelers. Opened since 1948, 11 a.m. to 9 p.m. Tuesday through Sunday.
Send Message to listing owner
Doug's Peach Orchard